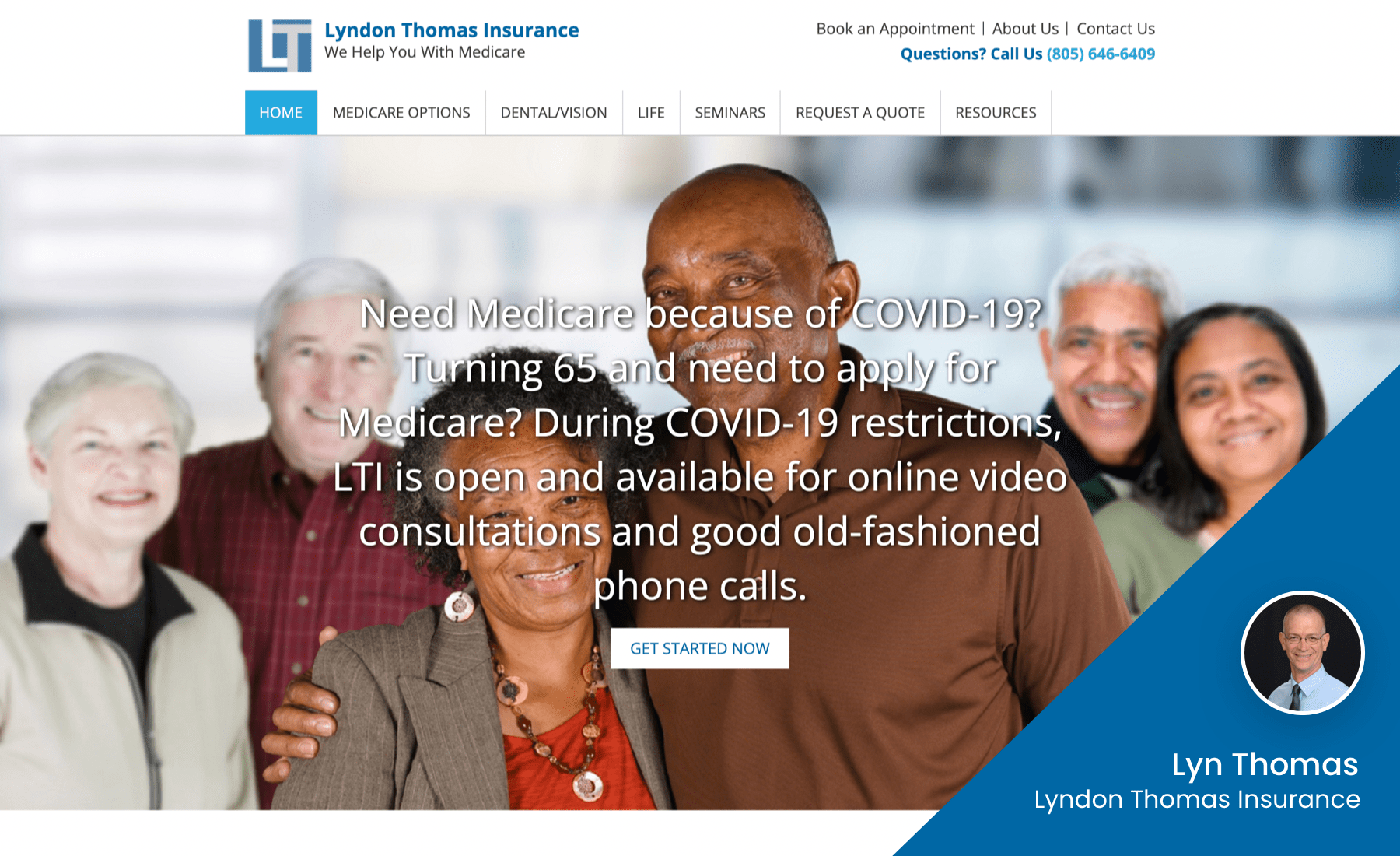 Lyn Thomas has always been an active member in the small community of Ojai, California. Nestled in a valley surrounded by the Topatopa Mountains, the beautiful small town is known for its spectacular sunset glow that occurs each evening. 
Locals call it "a pink moment."
Residents and tourists alike enjoy the area's relaxed atmosphere, a thriving creative scene, and natural scenic surroundings. It might be easy to think anyone living and working in Ojai would have everything coming up roses.
But, that wasn't the case for Lyn back in the summer of 2018.
I was fretting about the upcoming open enrollment period, almost to the point of depression.

Changed the insurance products marketing

The way insurance products were being marketed and sold was changing and Lyn felt as though he was on the outside looking in.

My seminars were still attracting prospects. After my presentations though, I was sure they became turned off by my website. All I had then was a one-page site that I created with GoDaddy. It was terrible!

Lyn's concentration is on the senior market. A market that was becoming increasingly internet savvy. With 95% of his business coming from the sale of Medicare Supplement plans, he knew he needed to do something. 

Found  AgentMethod's team
"As luck would have it, I met the AgentMethod's team in September that year at a conference in Los Angeles. That meeting would turn out to be one of the few bright spots in recent memory."
Lyn signed up after learning that not only could AgentMethods build a site that would match his brand, they could have it up and running within 48 hours.
I was surprised how fast my website was up and running. Not only that, the design was perfect. The AgentMethods team incorporated my brand's colors throughout the site and I honestly couldn't be more pleased with it.
Lyndon Thomas Insurance finally had the professional website needed to attract and retain clients. The site is filled with information important to his target market. In addition, prospects can now sign up for his seminars quickly and easily online without Lyn having to manually manage the process.
Results Lyn Can Count On

What really impresses Lyn is his website's ability to turn normally low-profit insurance products into a viable additional revenue stream. 
"My focus has primarily been on Medicare Supplement plans. When it comes to dental and vision products, the commission to write a new policy has hardly been worth the effort."
 There are so many plans and so many options that it was difficult to make the sales process efficient. But, with the new website, I am now able to direct clients to an online quoting portal. Within minutes, they are able to select a plan that meets their needs and I can quickly close the sale.
The website has yielded 35 new dental and vision clients for Lyn since the quoting portal went live on his website one year ago. Lyn expects this new revenue stream to grow significantly as he now actively promotes these products instead of shying away from them. 
Entering his 17th year as licensed agent, Lyn is busier than ever. The website has become an indispensable part of his growth and now he looks forward to open enrollment season. 
More importantly, I am proud to list my website on everything I print and love that I have my sign hanging out there on the web!