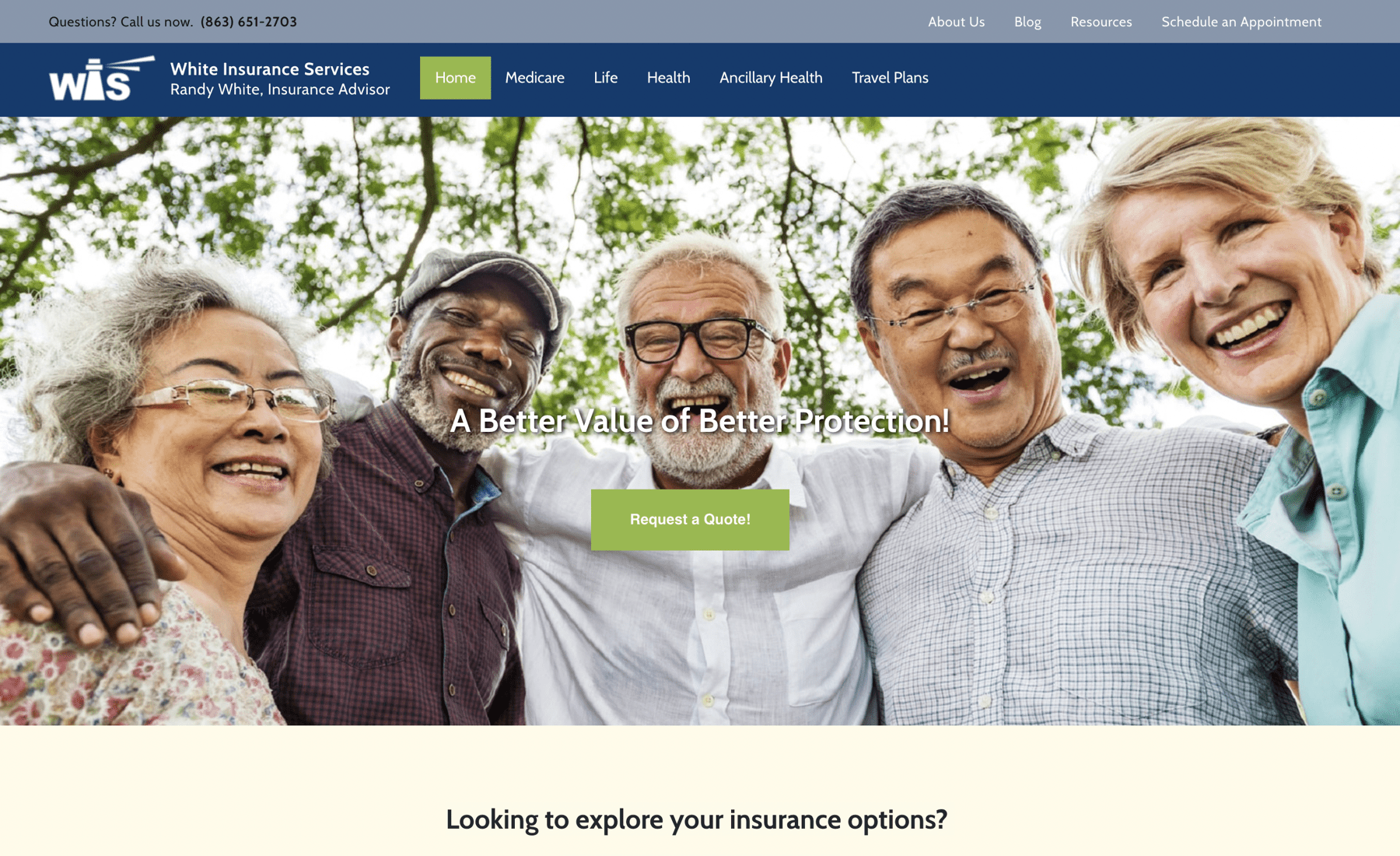 Randy White knows a thing or two about winning. With his passion for coaching at the youth level in both basketball and volleyball, he has spent much of his life propelling players to victory. But Randy knows it takes more than a few good players to be a winner – winning requires a complete team effort.
Importance of teamwork
As a 30-year insurance veteran, Randy also learned the importance of teamwork at both the captive and independent agency levels. To be successful meant having sales, management, and marketing working together toward the same goal. 
Randy knew he could sell. So, when he set off on his own to sell individual insurance products, he knew he needed to round out his team with management and marketing stars. 
When I started out five years ago, I required two things. First, I wanted a CRM system that worked the way I did. Second, I needed a website marketing company that worked with insurance agents like me, but where I didn't have to create all my own content.
Randy found a CRM solution with a well know software company specializing in working with smaller agencies. However, when it came to locate a website vendor that met his needs, his search was falling short.
Looking for site Builder
"Many of the website companies I looked at were building sites for large agencies who were selling employee benefits along with property and casualty insurance. I specialize in personal life, disability, and supplemental medical insurance. There just never seemed to be a fit."
Soon after launching his agency, start-up AgentMethods was beginning to gain traction building websites specifically designed for the independent life and health agent. As licensed agents themselves, AgentMethods saw a need to serve those who were selling policies one at a time. 
The timing could not have been more perfect. Randy was up and running with a professional website in no time. AgentMethods was also providing the exact content Randy needed, along with outbound marketing services that would increase Randy's visibility. 
"I saved many, many hours by using AgentMethods. The process of finding information to share is a lengthy process. Then I have to create the page, write the content, and edit it. And in the end, since I do not have the experience of what to share, my work could have produced negative results."
AgentMethods took the load off
Website content was not the only challenge. Randy was working hard to keep his old website updated with fresh blog material. 
"Before AgentMethods, I had a marketing representative who was really big into blogging. We used many of her blogs, but we also we also need needed to fill some gaps. This required us to pull articles from other sources, like our insurance carriers." 
Although Randy was curating enough content between his marketing representative and his company relationships, it was a burdensome process. Fortunately, AgentMethods took the load off by providing all the content he could possibly need.
"AgentMethods fulfilled my requirement of not having to create all my own content. Whatever the topic, they have exactly what my website needs. The website, newsletters, and social media updates has been very helpful in allowing me to help educate and inform my prospects. I am someone who likes to meet people in person. But, I know many of my prospects want to do it themselves. AgentMethods gives me the chance to educate, quote, and enroll clients all online."
Online gateway to attract the new client
Five years later, the White Insurance Service website continues to be Randy's online gateway to attract new clients and engage current customers. As competitive as Randy is, he doesn't hesitate to recommend AgentMethods to other agents.
"The service is fantastic! AgentMethods is excellent at replying quickly, updating my website fast, and making changes whenever I need them to. A transition to AgentMethods would be easy for any agent to take on."
AgentMethods, although not the biggest, is certainly the best according to Randy. This, along with their superior service and customer-first approach makes him such an advocate for their services.
"AgentMethods is definitely the way to go!"