Okay, let's get one thing out of the way: enough with the free quotes. What I mean by that is that while it's okay to use "Get Free Quotes" as a call-to-action to get a prospect to fill out a form, it's not what makes you or your website unique. All quotes are free and that's not what makes you special.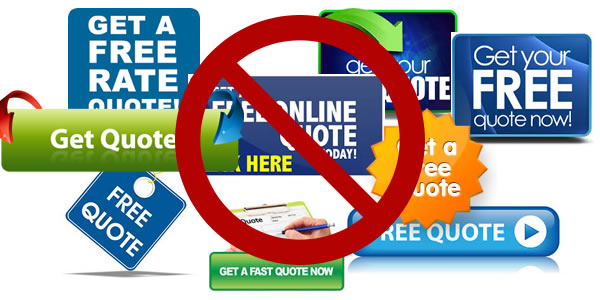 If you look at the best insurance websites - the ones that are most successful at generating leads - they do so much more than just provide quotes. What makes them successful has more to do with how they position themselves and interact with prospects than it does with the technical or design elements of an insurance website.
Today, we want to share six things the best insurance websites do really well. We'll explain each, and then give you some suggestions on how you too can do the same on your site.
1. The best insurance websites clearly state the the value they bring to the insurance buying process
If you want to engage with prospects (to stand above the competition) and make them want to buy from you instead of someone else, you need to clearly communicate what value you bring to the buying process. If a prospect chooses to work with you instead of someone else, what do they get? Don't have an answer? It's time to figure it out.
The best insurance websites communicate the value they bring and have it baked into their sales process. Even if they are quote focused, they still go a level deeper than just free quotes. Maybe they provide the fastest quotes, most detailed quotes, most options, etc. Each of these benefits appeals to prospects in a different way.
So what value do you bring to your insurance prospects? Start by asking yourself: How do you help your customers? Focus on what makes you unique. Think about your background and experience, additional services you offer, your community involvement, all things that go into making you who you are!
Here are a few ideas to get you thinking about this:
What did you do before you sold insurance? Craft a story around how you bring that experience to your insurance sales.
Think about how you sell. Are you creative, analytical, compassionate in your sales process? How does this make you different?
2. The best insurance websites are more than insurance lead generation websites
We know insurance leads are what you want. But, first, you have to earn a prospect's trust, demonstrate that you understand their needs, and that you have the right products for them.
How do great sites do this?
First, great sites are more than just a collection of quote forms. If your site is nothing more than a collection of quote request forms, or live quote engines, you have a problem.
Second, they offer well written, educational, and informative content that engages their visitors so they become better informed about insurance. This content should go beyond product descriptions. Instead, it should address the underlying reason that drives an insurance purchase. For example, don't just talk about long term care insurance, talk about freeing family from the burden of care.
Third, great sites get personal. By letting prospects get to know the agent, they establish a personal connection that is critical to building trust.
3. They focus not just on the insurance they sell, but why people need that insurance
People don't just buy things, they buy solutions to problems. Focus on explaining the problems insurance products solve and the underlying situations that create these problems. This goes a long way to providing peace of mind for prospects.
Product information is necessary, but you need to go deeper. For example, on life insurance websites, it's important to talk about the mechanics of whole life, term, etc. –Then, you can go into who buys the different type of policies? Or, you can address the pro's and con's based on the need.
4. They showcase the people behind the website
We all know about the success of large online brokers. It's tempting to try to compete with them by making your website appear like it's a large online broker. Don't!
These large online brokers spent millions of dollars developing their brand and driving traffic to their website. No independent insurance agent can compete directly. Instead, great insurance agent websites attack online brokers by leveraging their greatest strength -- the agent themselves.
Where online brokers are anonymous and impersonal, independent agents are committed and personal. They get to know their clients, take the time to answer their questions, and make recommendations based on their clients' needs.
How do you showcase yourself?
Start with your picture. A visual connection with a real person goes a long way to building trust. Don't be afraid to talk about yourself - create a page about you, your background, your family, and how you got into insurance.
5. Great insurance websites go off topic sometimes
Customers care about more than just insurance. In fact, your customers probably don't care about insurance and often buy it reluctantly. Overlap with what they do care about and they will see you as someone they can relate to. It's human nature.
This means that a great website goes off topic. Blogs are a great place to go beyond the topic of insurance. Browse some agents' websites and you'll see them talk about restaurants in their area, post photos of spring flowers, share the local high school's football schedule, and much more. These all have nothing to do with insurance, but they help you connect with your customers and prospects.
Putting this in place is simple. Use your blog to discuss topics that go beyond insurance. Think about what your customers have in common and what kinds of things you might chat about with them to get ideas.
6. They respond to leads quickly
One place that most agents fail when they receive online insurance lead is this: They don't call leads fast enough!
How fast should you contact your leads? Right away. As soon as they click submit, you want to be on the phone to them. Great insurance websites have processes in place to streamline, automate, and ensure every lead gets followed up on as quickly as possible.
How can you do this?
There are many ways and ultimately it depends on how you work, but here are some ideas you may consider:
• Jump on the phone as soon as the lead gets to your email.
• Send leads to multiple people so you can take turns following up
• Connect your website to a CRM system that automates the first follow-up
These are just some suggestions that we know will work to help you attract prospects online and strengthen relationships with your existing clients. Let us know what works for you.