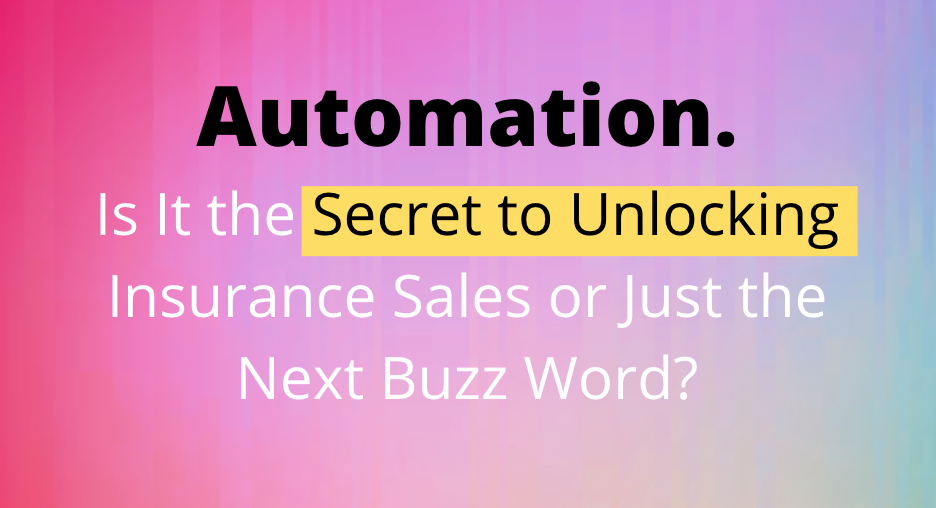 What Is Automation?
Automation is a word that we are hearing a lot. In today's world, you can automate just about anything. It's supposed to work like this:
Step 1: You set it up.
Step 2: You let it run.
Step 3: You go to the beach.
Sounds like an amazing dream, but how does an insurance agent put automation to work?
Most independent insurance agents are people-people. Talk to as many people as possible and help as many people as possible! Success in insurance sales comes from interacting with people.
Automation will help you in two main ways:
Free you up to have more time in your day to interact with more customers and prospects.
Scale your efforts to help you reach more customers and prospects.
Here are a few other significant benefits to automating:
Bring in prospects and engage your clients when you aren't working
Increase the quality of service by reducing response times and improving performance
Reduce your costs by streamlining your business
The benefits of automation extend beyond your office. Your clients and prospects will be blown away by your constant care and support. Your client relationships will strengthen because you are able to do more for them. Referrals will increase because you'll stay top of mind.
AgentMethods Helps You Automate Insurance Sales
We've built automation into the AgentMethods platform to help you find new clients, build lasting relationships, drive more cross-sales, and increase referrals. Here are a few of the ways AgentMethods automates your insurance business:
Blogging - We'll automate updates to your website blog so there's always something new, engaging, and informative to find on your website.
Daily Social Media Updates - Stay top-of-mind and relevant by showing up in your contacts' social media feeds, every business day.
Cross-Marketing Email Campaigns - Uncover a steady stream of cross-marketing opportunities through our unique automated email platform.
Monthly Newsletter - Build high-quality relationships with newsletters that adds value to your client's lives, every single month.
Appointment Setting During Enrollment - Make the busiest time of year less stressful while maximizing your time to make more sales by automating your outreach and appointment setting.
It's time for you to put automation to work in your insurance business. Make it a goal this year to find ways to automate the activities that take time away from selling or are bottlenecks in your growth.
This year is your year for growth and prosperity. Take time to invest in yourself and your business. Schedule a 1-on-1 demo to see how automation can fuel your efforts!
We can help - Let's Chat!