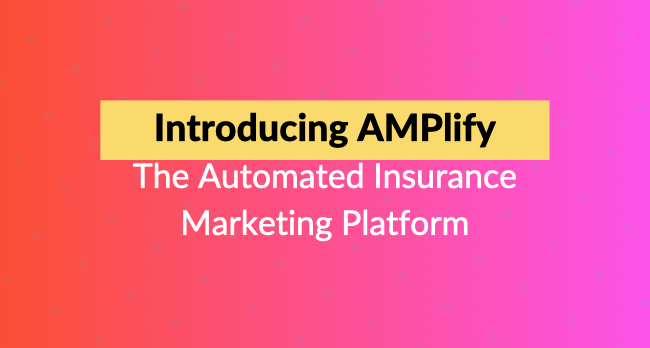 AMPlify is finally launched and we are so excited!
AgentMethods was founded in 2009 with one mission: to provide independent insurance agents with the tools to succeed online. We began with insurance websites but quickly realized that agents were missing critical parts of the sales funnel, such as cross-selling opportunities and renewals.
And why is retention and marketing to customers so important? Well because:
Acquiring a new customer can cost five times more than retaining an existing customer. (Invesp)
Increasing customer retention rates by 5% can increase profits by 25% to 95%. (Bain & Company)
80% of your future profits will come from just 20% of your existing customers. (Gartner)
Customers who have made two or more purchases are 9 times more likely to convert compared to first-time visitors. (Ecommerce Solution)
Despite these compelling statistics (and the best of intentions), most insurance agents don't do a good job of staying in touch with their clients. They may be too busy or lack the tools and resources to execute a retention strategy. As a result, they miss out on opportunities to deepen relationships with their clients, increase sales, and generate referrals.
Over the years, we added more features and capabilities to better nurture clients and prospects at every stage of their journey. Agents kept asking for marketing automation so we combined everything we do and then AMPlify does it for you!
AMPlify is the most advanced marketing automation platform for insurance agents. The platform is built around the needs of independent insurance agents to increase renewals, cross-sales, and referrals.
Here are some of the highlights of what AMPlify can offer:
Hands-Free Cross-Marketing: AMPlify sends two campaigns every month to help you mine your business for cross-sales. By targeting customers based on their past behavior, you can increase the likelihood of future purchases.
Daily Social Media Posts: You can choose from a range of topics that interest you, and AMPlify will post to your social media channels every day. This keeps you top-of-mind with your clients and allows you to participate in relevant conversations with a personal touch.
Hands-Free Monthly Newsletter: Newsletters are a powerful tool for educating your clients, and with AMPlify, you don't need to write any articles or set up an email blast. Every month, your clients will receive an engaging newsletter that drives traffic back to your website and helps them take action.
A Smart System: Designed with insurance in mind, AMPlify is a marketing-library-meets-engagement-platform that seamlessly integrates with your website, social media posting, and even scheduling. The platform offers a variety of professionally written content and hands-free automation that ensures you stay connected with your clients and prospects.
A Complete Marketing Funnel: From start to unfortunately stop, insurance agents, need to stay connected with everybody in their contacts list. By keeping in touch at every step of the Customer Life Cycle, AMPlify can help you grow your book of business by getting you more sales, renewals, and referrals.
Combining all these features creates a powerful system that automates over 350 touch-points per year so leads don't fall through the cracks. By freeing you from the tasks of marketing, AMPlify allows you to focus on what you do best, sell more insurance!
If you want to learn more about AMPlify, schedule a 1-on-1 demo here.