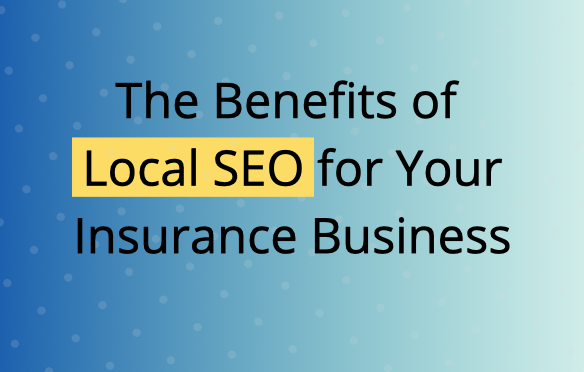 As an independent insurance agent, you're likely already familiar with the importance of SEO to attract new customers and grow your business.
SEO is a type of digital marketing that involves optimizing your website to rank better in organic search results. This optimization includes making sure your website is user-friendly, fast, functional, and optimized for the keywords you want to rank for.
With close to 7 billion searches being conducted on Google per day, there is massive potential for small businesses to attract website visitors with SEO.
If your potential customers are searching for goods or services like yours, then you want to outrank your competitors to attract as many potential customers as possible.
Many insurance agents make the common mistake of focusing too much on national keywords and not enough on local keywords.
Here's the thing, the insurance industry is highly localized. People search for insurance providers in their local area, which means that you need to be visible in local search results if you want to be found by potential customers. That's where local SEO comes in.
Local SEO is the practice of optimizing your website and online presence for local search queries. This means including local keywords in your content, building local citations and backlinks, and ensuring that your business listings are accurate and up-to-date.
Focusing on local SEO has several benefits for independent insurance agents:
Increased Visibility: By optimizing your website and online presence for local search queries, you'll be more visible to potential customers in your area.
Better Quality Leads: Local SEO can help you attract higher-quality leads that are more likely to convert into customers.
Lower Competition: Local SEO is less competitive than national, which means it's easier to rank well in local search results.
Improved Customer Experience: By optimizing your online presence for local search, you can provide a better customer experience for people searching for insurance in your area.
If you're not already focusing on local SEO, now is the time to start. By optimizing your online presence for local search, you can attract more high-quality leads and grow your business.
So how do you rank better in local search results?
Focusing on local SEO is crucial for independent insurance agents looking to grow their business. Here are a few actionable steps you can take to improve your local search rankings.
Claim and Optimize Your Google My Business Listing
Google My Business is a free listing service that allows businesses to manage their online presence across Google, including search and maps. Claiming and optimizing your Google My Business listing is a critical first step in improving your local SEO. To get started, visit the Google My Business website and follow the instructions to claim your listing. Be sure to fill out all of the information, including your business hours, contact information, and service areas.
Build Local Citations and Backlinks
A citation is any mention of your business online, including your name, address, and phone number. Backlinks, on the other hand, are links from other websites to your website. Building local citations and backlinks can help improve your local SEO by increasing your online authority and credibility. You can build citations by listing your business in local directories and ensuring that your information is consistent across all platforms. You can build backlinks by guest posting on local blogs, participating in local events, and even reaching out to other local businesses to request a link.
Use Local Keywords in Your Content
Using local keywords in your content is another effective way to improve your local SEO. For example, if you're an insurance agent in Houston, you might use keywords like "Houston insurance" or "insurance in Houston" throughout your website and blog. Be sure to also include your city or region in your meta descriptions, page titles, and header tags.
Encourage Online Reviews
Online reviews can help improve your local SEO by signaling to Google that your business is trusted and reputable. Encourage your customers to leave reviews on your Google My Business listing, as well as on other review sites like Yelp and Facebook. Be sure to respond to all reviews, whether positive or negative, to show that you value your customers' feedback.
By following these four steps, you can improve your local SEO and attract more high-quality leads to your business.
If you need help with your local SEO strategy, feel free to reach out. We specialize in helping independent insurance agents improve their online presence.