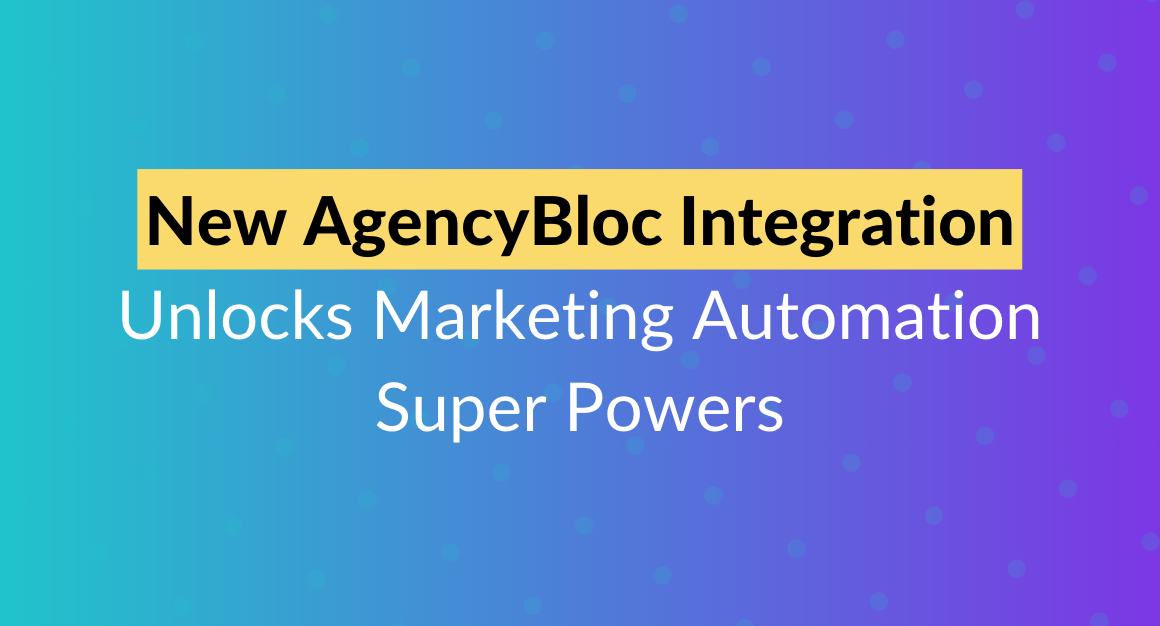 Unlock the full potential of your insurance sales with AgentMethods and AgencyBloc integration!
Get ready to take your insurance business to the next level! We are thrilled to announce a powerful two-way integration between AgentMethods and industry-leading agency management system, AgencyBloc. This powerful integration will streamline your operations and equip you with powerful new tools to help you skyrocket your sales.
Here's what you need to know!
AgencyBloc is an industry-specific agency management system (AMS) built specifically for health and life GAs. AgencyBloc makes it easy to manage clients, prospect to your new leads, and easily commission data. You can track enrollment and keep up with your clients so you know how your business is doing and what direction you want to steer it in.
With the integration of AgentMethods, you unlock a whole new world of possibilities. Both platforms work together seamlessly to streamline your sales and marketing process, giving you a deep understanding of what's working and what's not.
Transform Your Sales and Marketing Process
With this powerful new integration, both platforms work together to streamline your sales and marketing process, giving you a better understanding of what's working. With this integration, you can:
Import, update, and segment your AgencBloc contacts into AgentMethods to automate client retention, uncover hidden cross-sale opportunities, and increase referrals
Track and follow up with leads generated from your website by automatically assigning lead follow-ups and triggering automations within AgencyBloc
Gain a better understanding of how AgentMethods campaigns are creating opportunities by showing you all AgentMethods marketing activity within AgencyBloc
Paired with AgencyBloc, you can quickly convert leads, manage existing clients, and automatically mine your business for new sales.
Revolutionize Your Cross-Marketing Efforts
AgentMethods' cross-marketing system, synced with AgencyBloc, will find and present cross-marketing opportunities automatically, bringing in new opportunities without you even having to think about it.
Know Exactly What's Making Your Phone Ring
When a client or prospect calls, you'll be able to see all recent marketing activity and what it took to get them there without ever leaving AgencyBloc. You'll know exactly where your new leads are coming from and when a customer signs up, you'll know what email they clicked on to get there.
Never Let a Lead Slip Through the Cracks
Every lead you generate from your AgentMethods website will automatically be sent directly to AgencyBloc, with the right agent on your team assigned for follow-up. Then you can unlock the powerful automations available in AgencyBloc to steam-line your processes.
Contacts are synched and segmented from AgencyBloc to AgentMethods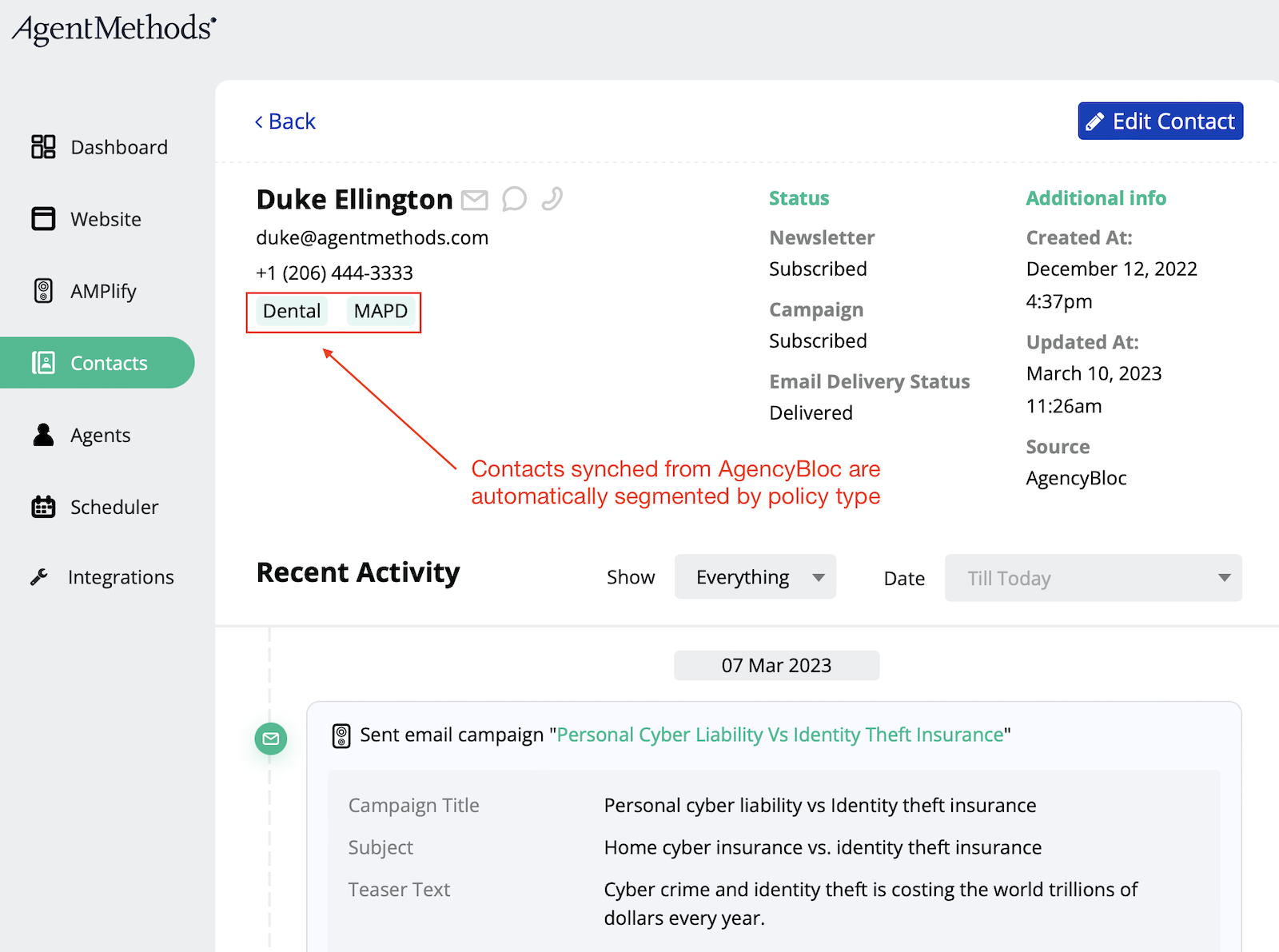 AgentMethods marketing activity shows up in AgencyBloc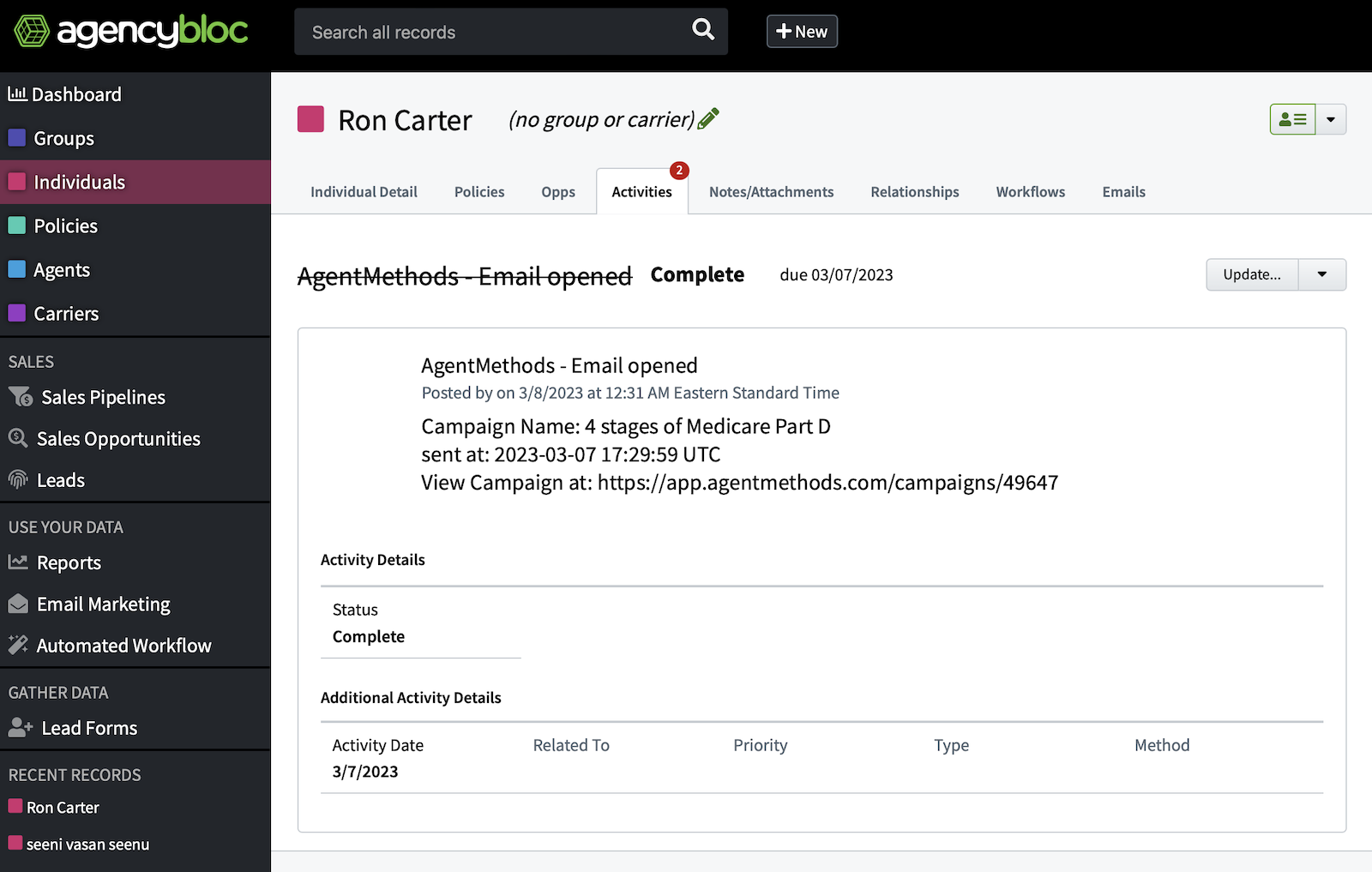 Getting Started Is Super Simple
Setup takes just minutes. If you are already an AgentMethods & AgencyBloc customer, you'll find instructions here.
If you are an AgentMethods customer and want to learn more about AgencyBloc, schedule a demo here.