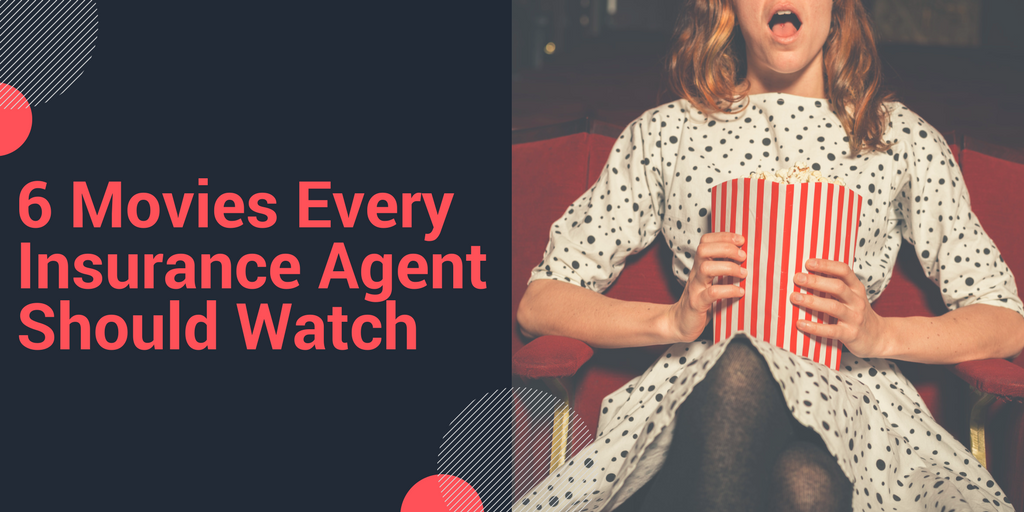 Hollywood can turn anyone into a hero or a villain - regardless of their occupation. Filmmakers have proven this many times by making insurance professionals the starring characters in comedies, mysteries and dramas. Casual visitors to various insurance websites probably don't imagine working in insurance can be as dangerous, exciting, glamorous or fun as the movies depict. After all, it's no secret that in real life agents seldom encounter the situations showcased in cinematic works. But that doesn't mean movies that feature insurance as an integral part of the plot can't be fascinating.
From funny to thrilling to inspiring… here is a list of six movies that every insurance agent should watch.




#1: "Double Indemnity"
"Double Indemnity" is a classic in every sense, garnering seven Oscar nominations when it was released and appearing on numerous "best" lists over the years. Barbara Stanwyck is at her seductive best as Phyllis Dietrichson, a housewife who wants to collect on her husband's life insurance. She ensnares Walter Neff, an insurance salesman deftly portrayed by Fred MacMurray, to help her murder her husband and make his death appear to be an accident so that the double indemnity clause will be triggered. Edward G. Robinson plays a claims adjuster who just refuses to buy the accident scenario staged by the conspirators.
If Hollywood ever made a film proving that insurance agents are human, this is the one. The film also provides an excellent depiction of how insurance companies operated during the 1940s.
Interesting Tidbits
The role of Walter Neff was turned down by George Raft, James Cagney, Alan Ladd, Gregory Peck and several others, primarily because Neff was such a weakling.
The movie was based on a novella that was inspired by the case of Judd Gray and Ruth Snyder, two lovers who conspired to kill Snyder's husband in 1927. A double indemnity clause figured prominently in the case. A photograph of Snyder at the moment of her execution became one of the most famous front-page images published during the 1920s.
#2: "Cedar Rapids"
"Cedar Rapids" provides a lighter look at the world of insurance agents. The film follows the events that transpire at a conference held in Cedar Rapids and attended by a rather naïve agent. Despite several setbacks, the good guys eventually triumph. The cast includes Ed Helms, John C. Reilly, Stephen Root, Anne Heche and Kurtwood Smith; Sigourney Weaver has a small — but important — role.
#3: "Alias Jesse James"
The first clue that "Alias Jesse James" is a comedy is that Bob Hope is the star of the film. The plot concerns an insurance agent (Hope) who sells Jesse James a life insurance policy and is subsequently sent to protect James so that the company will not be forced to pay out. However, James has a plan to collect on the policy while still alive. Wendell Corey portrays Jesse James; Rhonda Fleming plays Jesse's love interest who develops a fondness for Hope's character. Toward the end of the film, a variety of actors appear in the costumes worn in their iconic roles, including Gary Cooper, James Arness, Fess Parker and Jay Silverheels appearing as Will Kane, Matt Dillon, Davy Crockett and Tonto.
#4: "A Raisin in the Sun"
The 1961 film, "A Raisin in the Sun," is a classic film, but it also provides insurance agents with an insight into how life insurance can change lives. The plot concerns a family of five living in a small apartment after the death of the family patriarch. They are awaiting a check from the insurance company that each wants to use for a different purpose; although the check is "only" $10,000 in the film, it is important to remember that in today's money, the payout would be more than $80,000.
The cast includes Sidney Poitier, Ruby Dee, Ivan Dixon and Louis Gossett. The film was remade in 2008 as a television film, but we strongly recommend watching the original.
#5: "To Catch a Thief"
This film is filled with beauty, including Grace Kelly, Cary Grant and the scenery surrounding the French Riviera. Grant plays a retired cat burglar, John Robie, who is the prime suspect in a series of new jewel thefts; Kelly portrays Frances Stevens, who deduces Robie's true identity. In a bid to prove his innocence, Robie convinces an insurance investigator to supply him with a list of people in the area with the most expensive jewelry. Frances' mother is on the list, and she falls prey to the current thief. Since her jewels are insured, she seems to take the loss much more kindly than her daughter. Nevertheless, Frances continues to help Robie in his attempt to prove his innocence.
In the days before insurance websites, search engines and "instant" news, it was far easier for filmmakers to exercise creative license when depicting insurance workers. Today, many viewers would question the delivery of a virtual "hit list" of high-profile targets to a potential cat burglar. When the film was made in 1955, however, it seemed as logical as an insurance company sending an investigator on an extended assignment to the French Riviera.
The film was directed by Alfred Hitchcock, who makes one of his cameo appearances about 10 minutes into the film. He can be seen seated next to Grant on a bus. Edith Head was nominated for an Academy Award for the memorable costumes she designed for the film.
#6: "The Incredibles"
It might be hard to believe that a Pixar film released by Disney would have connections to the insurance industry, but it is true. In "The Incredibles," public opinion has turned against superheroes due to the collateral damage that their crime-fighting efforts cause. Helen and Bob Parr are forced to abandon their alter-egos, Elastigirl and Mr. Incredible. However, it is hard to stop being a hero, so Bob, who has taken a job with an insurance company, helps little old ladies exploit loopholes in their policies. The CGI film features the voices of Craig T. Nelson, Holly Hunter, Samuel L. Jackson, Wallace Shawn and John Ratzenberger.
The film posed a number of challenges, but writer and director Brad Bird refused to compromise quality in the name of expediency. New techniques were developed for the film; all of the effort apparently paid off, however, since the movie won Oscars for the best animated feature as well as best sound editing. It also won an Annie, a Hugo, a Saturn and a Golden Globe. A sequel is scheduled to be released in 2018.
See - insurance can be entertaining! Let us know what your favorite movie featuring insurance is!